EU Eastern Enlargement, or an All-European Transformation?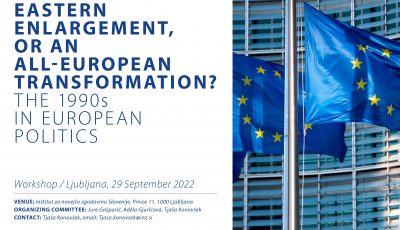 International workshop accompanying the Czech Republic's EU presidency and titled Eastern Enlargement, or an All-European Transformation? The 1990s in European Politics is organized by the Institute of Contemporary History of the Czech Academy of Sciences, the Slovenian Institute of Contemporary History, and the EuParl.net network on 29 September 2002 in Ljubljana. The programme is attached.
Researchers from a number of European countries will try to shift the focus on the 1990s from national social and economic policies toward a wider supranational context. East-Central European governments applied for EU membership in the period, and their national elites started relating to EU actors, procedures and membership requirements. At the same time, Western Europe underwent a major transformation following the Maastricht Treaty, and many countries faced strong and relentless opposition to European integration. This event seeks to bring together both perspectives and re-think the concept of the Europeanization of national politics.