Webinar "Breaching the Walls. We do need education!"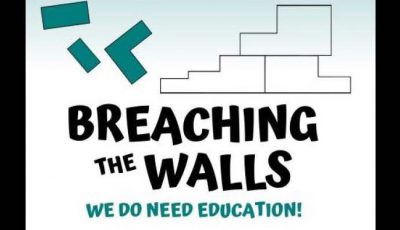 September 25, 2020, 14:30-17:45
Webinar organized by the Institute of Contemporary History, Czech Academy of Sciences
After several months of work, the teams will present the project outputs (collection of interviews), including various methodology issues and pitfalls they have faced up during the project course in the Covid 19 time. Besides, the various meanings of the concept of the wall/walls will be discussed to reflect the main project topic, the fall of the Berlin Wall as the symbol of the re appropriation of individual rights and freedoms by the former Soviet bloc citizens who were struggling to get more democracy in their own countries. The speakers will put the topic in wider frames of European history.
THE WIDE AUDIENCE IS WELCOME: JOIN ZOOM MEETING
https://zoom.us/j/8642910733?pwd=aDlJK21KUG0rZTVNb0dWY0dxaUFHUT09
Meeting ID: 864 291 0733
Passcode: 261654
Introduction
14:30–14:35
Opening (Lenka Krátká, Institute of Contemporary History; Czech Academy of Sciences)
Welcome (Gramsci Foundation)
14:35–15:00
Jana Wohlmuth Markupova, Faculty of Humanities, Charles University, Key note speaker: Meaning of 17th November 1989 in the Memory of Former Student Protagonists in Czech Republic
Section I     BEFORE and AFTER
15:00–15:45
Specific experiences from the teams/countries involved in the project (and interviews recording) with the focus on comparison between the time "before" pandemic situation and "after" (respectively when the situation in individual countries is more or less returning to normal, and vice versa)
Roberto Ventresca, Gramsci Foundation (reflection on the collection of interviews in Italy)
Teresa Malice, Gramsci Foundation (reflection on the collection of interviews in Germany)
Klaus Bushi, Municipality of Tirana (project experiences in Albania)
Mateush Pawlikowski, History Meeting House Warsaw (project experiences in Poland)
Lenka Krátká, Institute of Contemporary History, Czech Academy of Sciences (reflection on the collection of interviews in the Czech Republic)
The main topics (estimated time nine minutes per each team)
general interests in the project (the issue of breaching the walls, of freedom, Berlin Wall, etc.)
interests of individuals in direct participation in the project
when it is possible, a comparison of topics/issues which the narrators considered the most important now and which they stressed "before"
other specific features of the oral history research in the comparison "before/after" within each country
Section II     DOCUMENTARY FILM YOUTH TO YOUTH: THE FREEDOM MOSAIC
15:45–16:15
The film (28 minutes) presents a mosaic of narratives of former student revolutionaries from 1989. The documentary captures their memories on the late 1980's in Czechoslovakia, the Velvet Revolution and on the decades after. It shows how the narrators reflected the 1990's – euphorically as well as critically –, the beginning of the new millennium and our present days. Oral history interviews are completed with a period footage and historical commentaries. The documentary was created in cooperation of the Czech Television and the Institute of Contemporary History of the Czech Academy of Sciences in 2019.
Section III     BREACHING THE WALLS – INTERVIEW INTERPRETATION
16:15–17:00
Case study presentation aimed at one specific interview from each country with the focus on the main project topics – the walls (real and symbolic), concept of freedom, and perception of belonging to the European Community, etc. (five minutes per speaker plus 15 minutes for discussion)
Roberto Ventresca, Gramsci Foundation
Teresa Malice, Gramsci Foundation
Lorena Shele, Municipality of Tirana
Mateush Pawlikowski, History Meeting House Warsaw
Lenka Kratka, Institute of Contemporary History
Comments by the colleagues from the University of Bielefeld
Section IV     PROJECT "IN PICTURES"
17:00–17:15
Bruna Lo Biundo from Past / Not Past will comment on Pierre Alozie's photos from the exhibition "Europe in Flux"
Concluding remarks
17:15–17:45
Paolo Capuzzo, Gramsci Foundation; Full Professor of Contemporary History and Head of Department of History and Cultures of the University of Bologna
DOWNLOAD