Workshop: Science, Occupation, War (1939-1945)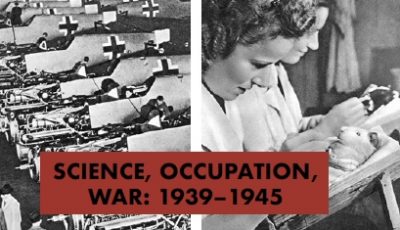 We cordially invite you to international workshop "Science, Occupation, War: 1939–1945"  held on the 80th Anniversary of the Outbreak of WW2 (supported by the GA ČR, project nr. 17-27132S).
Date: October 24.-25. 2019; Place: National Technical Museum (Kostelní 42, Prague 7).
PROGRAMME:
Wednesday, October 23, 2019
17.00 Welcome Drink at Villa Lanna (V sadech 1, 16000 Prague 6)
Thursday, October 24, 2019
09.30–09.45 Introduction
09.45–10.15 Friedrich Cain (A1): Science at the Threshold and Beyond. Polish Research Practices and German Occupation, 1939–1945
10.15–10.45 Hans-Joachim Bieber (A2): From Ostforschung to Psycho-therapy. Notes to Rudolf and Maria Hippius
10.45–11.00 Coffee Break
11.00–11.30 Fabio Spirinelli (A3): The Occupied Museum. Culture and Science in Luxemburg During the Nazi Occupation, 1940–1944
11.30–12.00 Michal V. Šimůnek (A4): "Geistiges Schaffen" and Total War. Changes of Nazi Approaches Towards Czech Scientific Research in the Protectorate of Bohemia and Moravia (1943–1945)
12.00–13.30 Lunch
13.30–14.00 Petr Svobodný (A5): "Universiteter i kamp". Nordic Universities During the WW2 – A Preliminary Survey of Research
14.00–14.30 Erki Tammiksaar & Ken Kalling (A6): The University of Tartu and the Generalplan Ost
14.30–15.00 Viktoriya Sukovata (A7): German Racism and the Scientists in French Resistance
15.00–15.15 Coffee Break
15.15–15.45 Jan Kotůlek (A8): Analysis of Reserch Topics of the Mathematical Department of Skoda Werke During WW2
15.45–16.15 Susanne Rütter (A9): Science – Technology – Life. Ethical Reflections
16.15–17.00 Disscussion
Friday, October 25, 2019
09.30–10.00 Paul J. Weindling (B1): The Czechoslovak Twins of Mengele, 1943–1945
10.00–10.30 Maria Ciesielska (B2): ʻMedical Matters' in Auschwitz
10.30–11.00 Thomas Mayer & Margit Berner (B3): Just Collected. Practices of Science in Occupied Territories During Wartime
11.00–11.15 Coffee Break
11.15–11.45 Florian Schm alt z (B4): Mobilisation of Resources for Aeronautical Research of Nazi German. The Outpost of the Aerodynamic Experimental Station at Prague, 1940–1945
11.45–12.15 David Hubený (B5): The Patent Office of the Protectorate of Bohemia and Moravia, 1939–1945
12.15–12.45 Martin Franc (B6): An Invaluable School. Research in the Chemical and Pharmaceutical Industry in the Protectorate of Bohemia and Moravia, 1939–1945
12.45–13.45 Lunch
13.45–14.15 Antonín Kost lán (B7): ʻAnti-Palacký'. German Fight Against the So Called Czech Historical Myth, 1939–1945
14.15–14.45 Miloš Hořejš (B8): Influence of the Third Reich on the Architecture and Spatial Planning in the Protectorate of Bohemia and Moravia
14.45–15.00 Coffee Break
15.00–16.00 Final Disscussion
16.00 End of the Workshop
Programme can be download here.